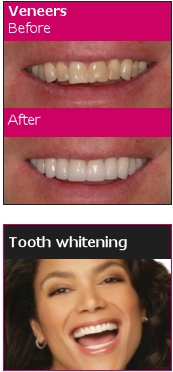 An Emergency Dentist in Wembley When and Where You Need One
When you need an emergency dentist we know that time is of the essence. One Complete Dental is a centre of pristine dental treatments, providing the very best care an emergency dentist can offer to patients in the Wembley area. We also realise that this service needs to be provided as soon as possible. As such when you need to see an emergency dentist who deals with patients living in and around Wembley, One Complete Dental will guarantee that we will do our best to see you promptly. Whether you need a replacement filling or crown, or are suffering from toothache or perhaps need emergency root canal treatment, you are in safe hands with us. Our friendly team will put you at ease and make sure that you are relaxed throughout your consultation.
Immaculate Cosmetic Dentist in Wembley
One Complete Dental are very proud of the standard of work carried out by our cosmetic dentist to patients in Wembley. Our team are enthusiastic about beautiful teeth and we will do our utmost to help you feel the same about your smile. One Complete Dental's cosmetic dentist who treats patients living in Wembley feels very strongly about keeping up-to-date with current dentistry trends and improvements. This means you can feel absolutely confident that the treatment you receive is at the forefront of the field. We combine various techniques such as zoom tooth whitening, veneers, dentures and tooth implants to solve your particular dental problem. In less than no time you will be feeling positive and happy about your teeth.
Prominent Private Dentist in Wembley
One Complete Dentist is made up of a team of empathetic, friendly and professional private dentists who deal with patients living in Wembley. We really enjoy caring for a patient's various needs which may range from root canal treatments to dentures. We know that for many, a visit to the dentist is not something that many relish and that more than a few of our patients feel nervous and apprehensive. Therefore, our team of private dentists who treat patient from the Wembley area make sure that throughout any treatment you undergo, you will feel safe and relaxed. Our staff of nurses and receptionists are all exceptionally friendly and will instantly help you to enjoy your experience. We have provided a brief description of a few of the services we offer.
Zoom Tooth Whitening;
Our zoom tooth whitening service is a gentle approach to restoring a pearly sheen to your teeth. We can transform stained, discoloured teeth into a glowing white smile.
Veneers:
We can create a wonderful smile showing teeth that you feel confident about. Broken or misshapen teeth can be detrimental to your self-esteem fortunately this can now be a thing of the past!
Tooth Implants:
One Complete Dental can quickly and comfortably replace missing teeth or unsightly gaps with natural-looking, attractive tooth implants.
Dentures:
Like most things in life, dentures do need to be replaced. We can create comfortable, secure dentures to last you for many years to come.
Root Canal Treatments:
Our team of dentists are experts at providing a gentle, thorough service of root canal treatment. We can help you recover quickly and easily from the pain and discomfort which you're experiencing.
Don't let anything put you off from seeing One Complete Dental today, all your dental needs from dentures to gentle root canal treatments to zoom tooth whitening to a routine check-up can be cared for by our friendly team.